BATW celebrates the talents of its award-winning travel writers and photographers with anthologies that showcase their best articles and photos.

New!
Travel Features & Photos: California's National Parks,  Monuments, Trails, Seashores and Historic Sites. Beautifully photographed and superbly written by members of BATW, our latest anthology explores and celebrates national parks and monuments in the Golden State — a tribute to the National Park Service on its 100th anniversary in 2016.
Download this exceptional publication as a free PDF here (no strings attached; with many photos, it's a big file, so please give it time to download). You can also purchase the 4-color printed book.
Clips & Pics: In 2014 we published Clips & Pics, a collection of 40 round-the-world travel stories (and lots of breathtaking photos!).  You can either 1) Download your free PDF here or 2 ) Purchase the 4-color printed book.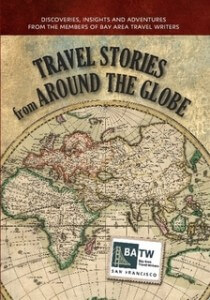 Travel Stories from Around the Globe: A truly exceptional read, this collection of 23 stories embodies the adventure and inspiration of travel.
AFAR magazine Editor-in-Chief Julia Cosgrove said of it: "The pieces in this anthology offer surprise, serendipity, connection, and personal transformation — all crucial ingredients for good travel writing."
Purchase Travel Stories from Around the Globe.