By Matthew Eley
"Neither Rain, Nor Sleet" nor any foul weather can keep the Bay Area Travel Writers from another successful year-end bash. Despite weather outside most frightful, the 2019 BATW holiday party proved delightful to the more than 50 attendees.  The Berkeley Boathouse at the DoubleTree by Hilton Berkeley Marina (click here for press release) welcomed the group with outstanding gourmet appetizers, specialty cocktails and a delightful view of docked boats rocking in the waves against a classic San Francisco sunset — once the torrential rain subsided (please help our hosts by posting a review of the venue here!).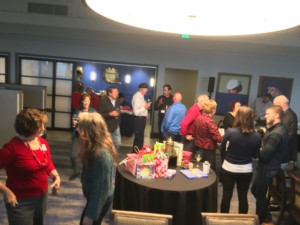 Seasoned travel writers looked past the precipitation to find a spacious interior warmed by fireplaces and BATW holiday cheer. With a renovation completed this September, Berkeley Boathouse feels both modern and snug, with an unparalleled view of the Berkeley marina and, on less inclement days, Angel Island and the distant Golden Gate Bridge.
As the rain let off, members savored a variety of cured meats, cheeses, finger sandwiches and other hot hors d'oeuvres prepared by the capable Double Tree kitchen. Accompanying the spread were a variety of local wines, beers and a particularly good Midnight Manhattan, a house specialty.
Heady cocktails and mouthwatering plates were complimented by the smooth chords of the Lucas Sanchez Trio, headed by Bay Area local Lucas Sanchez. Several writers were caught bopping and swaying to the tunes.
No BATW holiday party is complete without the much-anticipated raffle featuring prizes from Bay Area institutions, with President Judith Horstman and holiday elf Molly Blaisdell presiding.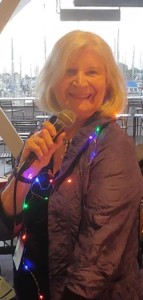 Members were treated an array of prizes from Visit Berkeley, courtesy of Dan Marengo, director of Visit Berkeley and Berkeley film office. Gifts featured best of the town known for its vibrant and independent creators: two Visit Berkeley swag bags (including, enviably, TCHO chocolate), two food and drink collections from the city featuring sake aficionado favorite Takara, two pairs of BAMPFA gallery passes and two $60 Aurora Theatre Company gift certificates.
Going to one lucky BATW member was a year's membership to the Commonwealth Club, the site of November's meeting which featured a superb walking tour of downtown surrounding the Ferry Building. The Commonwealth Club, known for its forums and lectures but less so for its acclaimed voyages around the globe, generously offered the membership through its travel director Kristina Nemeth.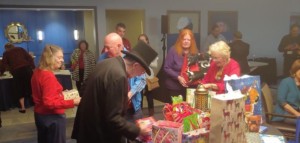 Our hosts, Berkeley Boathouse at the DoubleTree by Hilton Berkeley Marina, outdid themselves by offering two overnight stays for two, featuring breakfast and parking, in the cozy rooms lining the harbor. Two other members also enjoyed $100 gift certificates for the Berkeley Boathouse which proved, delicious course after delicious course and Midnight Manhattan after Midnight Manhattan, its status as an agreeable Bay Area destination.
Having already outdone itself, Double Tree offered a stocking stuffer of discounted media rates for writers wishing to spend the evening by the fireside, listening to the patter of rain against the windows and waters.
The BATW extends heartfelt thanks to corporate member Kathleen Bertolani Haack who connected us to Melissa Crawford at Ellipses PR. Crawford (along with BATW President Judith Horstman) coordinated with the crew at the Berkeley Boathouse at the DoubleTree by Hilton Berkeley Marina, led by Adriana Larick, regional director of Sales and Marketing and Natasha Norma, Director of Catering & Conference Services. There could not have been a better farewell to 2019 and segue into 2020.