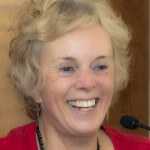 Diane LeBow, BATW President emerita, recaps the recent 2016 volunteer recognition party – and sends a pitch for 2017 volunteers (you can never have too many volunteers!).
 On Nov. 29, 2016, some of our jolly 2016 BATW volunteers kicked up their heels, laughed, shared tales and dined on some of the best pizza and wines San Francisco has to offer.
Pizza Orgasmica, whose logo is "We Never Fake It!", delivered again this year to our elegant venue atop Russian Hill, generously provided by BATW member and internationally renowned photographer Morton Beebe (www.mortonbeebe.com). Pizza types included "Cheeky Tomato," "Swinger's Shrimp," "Orgasmica" and "Garden of Eden."
About 25% of our membership serve as the volunteers who keep our non-profit organization humming. They handle such vital positions as Program Chair, Food and Beverages, Greeters, Awards, Press Passes, Judges for BATW writing and photography contests, Editors and Publishers of BATW publications, such as our upcoming "Taste of Travel" book, computer tasks, and much more.
In addition to the fun, camaraderie and good eats, several lucky members at our annual volunteer reward party won prizes supplied by our ever-generous Corporate Member Molly Blaisdell of www.hooklineandthinker. Several of Molly's clients, including Cityscape at Hilton Hotel Union Square and Alcatraz Cruises, donated awards. Molly sponsored San Francisco Armory private tours for several lucky winners (x-rated!).
Keep BATW buzzing! Contact Volunteer Coordinator Jim Gebbie (JimGebbie@aol.com) to join our 2017 volunteer crew. Your efforts take only a few hours/year. You'll make new friends, share good times and know you're providing all of us with important services.
Ho, Ho, Ho. Happy travels, writing, photos to all in 2017.