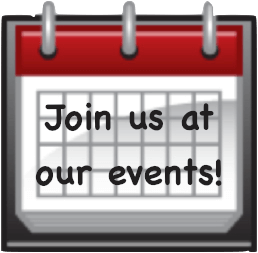 BATW meetings are normally held the third Saturday of the month at 10 a.m., with a short business meeting followed by a presentation and/or a tour related to the location. Occasionally the date is changed because that date is too close to a holiday (particularly in December), or because an evening meeting is scheduled.
Members: Please RSVP through your invitation – and bring a printout of your confirmation or smartphone to the meeting.
Non-members thinking of joining BATW: You are welcome to attend a meeting as our guest (except for meetings classified as Members Only). Let us know of your interest in advance by emailing ExecutiveDirector@BATW.org.
Monthly General Meetings 2018 – More details will be posted as soon as available. (Note the coordinator's email address with each listing.)
January 20 – Taste of Travel readings at Mechanics' Institute, San Francisco (steffe.levin@gmail.com)
February 17 – History and docent-led tour, Boudin Bakery at The Wharf, San Francisco (molly@hooklineandthinker.com)
March 17 – "Does Your Travel Journalism Website Need a Refresh?", BAMPFA, Berkeley (lee@fostertravel.com)
April 21 – Apple Park Visitor Center, Cupertino and Computer History Museum, Mountain View (dlaws@computerhistory.org)
May 19 – Airport/Airline News, Oakland International Airport, Oakland (ruth@ruthcarlson.com)
June 16 – Shameless Self-Promotion, The Lodge at Tiburon, Tiburon (judithhorstman@comcast.net)
July 21 – Photo Like a Pro with iPhone, Yerba Buena Center for the Arts (jsundsmo@gmail.com)
August – Summer Vacation/No meeting
September 15 – Blogging Panel, Lodge at the Presidio (kmworld@vom.com)
October 20 – Tweet Like a President, Social Media Update, Savanna Jazz Club, San Carlos  (mjpramik@gmail.com)
November 17 – The Great Dickens Christmas Fair (traveluv@berkeleyandbeyond.com)
December 9 – Annual Holiday Party, Aracely Cafe, Treasure Island (judithhorstman@comcast.net)
Be sure to check out last year's calendar (below) as another sample of our events:
Monthly General Meetings 2017
January 21, 2017 – Annual membership meeting; introduction of new Board; members read from Taste of Travel. This meeting will probably take place at The Diamond on Pier 45. Suzie Rodriguez (suzierod@gmail.com)
February 18 – BATW Awards Contest at Book Passage in Corte Madera. Karen Misuraca (kmworld@vom.com)
March 18 – Sustainability and commitment to community, held at the Hilton San Francisco Union Square. Molly Blaisdell (molly@hooklineandthinker.com)
April 15 – Twitter guru Chris McGinnis at Presidio Officer's Club, San Francisco. Lee Daley (literalee@yahoo.com)
May 20 – Pier 45, San Francisco, USS Pampanito presentation and tour. MJ Pramik (mjpramik@gmail.com)
June 17 – A celebration of San Francisco's Castro District and San Francisco's Summer of Love; GLBT Museum. Jim Gebbie (jimgebbie@aol.com)
July 15 – Hosted lunch meeting at Savio Restaurant in Pleasanton, tasting at Steven Kent Winery in Livermore. Carole Terwilliger-Meyers (traveluv@berkeleyandbeyond.com)
August 12 – A jam-packed experience in Fairfield, hosted by Fairfield CVB. Wendy VanHatten (wvanhatten@gmail.com)
September 16 – A day in Pacifica (Surf, Turf and Art). Judith Horstman (judithhorstman@comcast.net)
October – Hawaii-themed event, Palace Hotel, San Francisco. Tom Wilmer (tomwilmer@aol.com)
November –  No meeting this month.
December 9 – Annual Holiday party at the Parc 55 Hotel. Lee Daley/Molly Blaisdell. .
January 20, 2018 – Taste of Travel readings at Mechanics' Institute Library, San Francisco. Stephanie Levin (steffe.levin@gmail.com)