"Holiday Highjinks on Treasure Island"
by Judith Horstman
It was a holly jolly group of nearly 70 members and guests who gathered for the annual BATW Holiday Party December 9 at Aracely Café on Treasure Island in San Francisco Bay.
The highlight of the afternoon was the presentation of the Rebecca Bruns Memorial Award to long-time member and past president Ginny Prior. The award of a special plaque and a $200 check is given biannually in honor of the late Rebecca Bruns (see article here).
Ginny made her acceptance memorable by singing one of her favorite country & western songs, at the urging of presenters Molly Blaisdell, Ruth Carlson, Lee Daley and Carol Canter, and to the delight of the applauding crowd.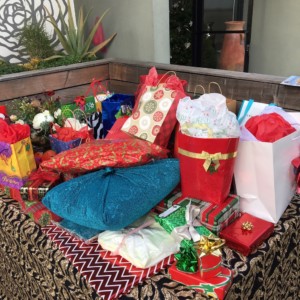 Earlier, party-goers participated in an enthusiastic White Elephant gift exchange. All who brought a nicely wrapped gift were able to choose a mystery gift from the pile of packages. Good Santa Carole T. Meyers and Naughty Elf Molly Blaisdell presided over the gift exchange as guests sipped six different wines provided and served by three Treasure Island vintners. Appetizers were provided by Aracely Café.
The party concluded with a drawing for several prizes, including two bottles of Treasure Island-made wine, won by Bob Bone and Marc Longwood; a bottle of Gold Bar Whisky from the Treasure Island distillery, won by Molly Blaisdell; a copy of the San Francisco: City by the Bay photo book by acclaimed photographer Morton Beebe that went to photographer Charles Pannell; and a dinner for two at Aracely, won by BATW President Judith Horstman.
Elliot Gillespie of the new Gold Bar Whiskey distillery (set to open on the island in February) arranged for a small bottle of the spirits as a gift for each departing guest. The wines were donated and poured by Treasure Island Wines owner and vintner Jim Mirowski, Carole Martinson of Kohler & Frohling wines, and Umbriaso winemaker Dennis Hayes.
Many many thanks to all who made the event a success, especially the wonderful Treasure Island businesses: Linda Edson, owner of Aracely Café, which provided the venue and appetizers; Jim, Carole and Dennis who provided the excellent wines and Elliot of Gold Bar Whiskey; and the Treasure Island Museum.
The party was preceded by an open house at the Treasure Island Museum, one of the facilities being renovated and a valuable repository for history. The open house was made possible by BATW member Mort Beebe, who also sits on the TIM Board, and attended by about 20 BATW party-goers.
Treasure Island is an under-appreciated gem: more than 200,000 pass over it every day, with only a much smaller number stopping. But that's about to change. It's undergoing a major restoration and new development of housing and businesses., and BATW is pleased to be among the growing groups to celebrate the new island and its businesses.